ISMC News 14 Oct.
CZO Workshop + EU Soil Missions + Instagram + Protecting the Soil is Protecting the Climate + Featured Paper
CZO Workshop
Toward an International Critical Zone Network-of-Networks for the Next Generation through Shared Science, Tools, Data and Philosophy
This workshop will bring together an international cohort of early career scientists to advance modes of collaboration across critical zone networks, providing a foundation to do together what would be impossible to do alone. The workshop will focus on use of new computational and analysis strategies and big data to improve understanding of critical zones. Register in the AGU page to learn more about date and time.
Workshop contacts:
Bhavna Arora (LBL)
Melanie Kincaid (LBL)
EU Mission 'Soil Deal for Europe'
EU Missions are a new way to bring concrete solutions to some of our greatest challenges. They have ambitious goals and will deliver concrete results by 2030. On September 2021, the EU published the EU mission 'Soil Deal for Europe' Implementation plan. Please find relevant reports with the below links: 
https://ec.europa.eu/info/files/communication-commission-european-missions_en
https://ec.europa.eu/info/publications/implementation-plans-eu-missions_en

Instagram: ISMC_News
Happy to announce that ISMC's Instagram page is live now! Follow us for exciting news in the soil modeling world and ISMC activities! Send us information on workshops and conferences that you would like to feature for the ISMC community.

Protecting the Soil is Protecting the Climate 
WASWAC and IUSS Position Paper on the Inter Linkages of Soil and Climate Change
WASWAC Protecting the Soil is Protecting the Climate

Featured Paper: Montreal protocol and impact on carbon cycle
Paul J. Young, Anna B. Harper, Chris Huntingford, Nigel D. Paul, Olaf Morgenstern, Paul A. Newman, Luke D. Oman, Sasha Madronich & Rolando R. Garcia 
The control of the production of ozone-depleting substances through the Montreal Protocol means that the stratospheric ozone layer is recovering1 and that consequent increases in harmful surface ultraviolet radiation are being avoided2,3. The Montreal Protocol has co-benefits for climate change mitigation, because ozone-depleting substances are potent greenhouse gases4,5,6,7. The avoided ultraviolet radiation and climate change also have co-benefits for plants and their capacity to store carbon through photosynthesis8, but this has not previously been investigated. Here, using a modelling framework that couples ozone depletion, climate change, damage to plants by ultraviolet radiation and the carbon cycle, we explore the benefits of avoided increases in ultraviolet radiation and changes in climate on the terrestrial biosphere and its capacity as a carbon sink. Considering a range of strengths for the effect of ultraviolet radiation on plant growth8,9,10,11,12, we estimate that there could have been 325–690 billion tonnes less carbon held in plants and soils by the end of this century (2080–2099) without the Montreal Protocol (as compared to climate projections with controls on ozone-depleting substances). This change could have resulted in an additional 115–235 parts per million of atmospheric carbon dioxide, which might have led to additional warming of global-mean surface temperature by 0.50–1.0 degrees. Our findings suggest that the Montreal Protocol may also be helping to mitigate climate change through avoided decreases in the land carbon sink.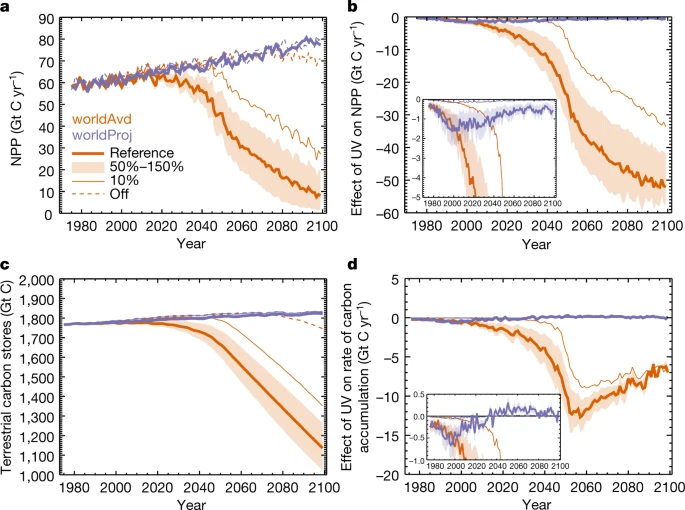 Fig. 2: Effects on the productivity and stores of the terrestrial carbon cycle.
The paper is available here: 
https://www.nature.com/articles/s41586-021-03737-3