ISMC Chair
Welcome to Teamrat Ghezzehei as new ISMC Co-Chair!
2019 will be a year of great progress for the ISMC Members and the Consortium. In the first half of 2019, the ISMC Executive Board elected Teamrat Ghezzehei as ISMC Co-Chair for a period of three years, becoming effective from July 1st, 2019.
At this moment, the Executive Board, Chairs and Coordination office thank Michael Young, University of Texas, Austin, for his leadership, dedication and commitment to ISMC over the past three years. The inauguration ceremony will take place at the ISMC pre-AGU meeting on 8th Dec. 2019.
Teamrat Ghezzehei is Associate Professor in Environmental Physics at University of California, Merced, with an excellent scientific record demonstrated by the number of awards, his academic, university and community services, and his publications. He is ISMC member since the start in Austin 2016 and served as ISMC Executive Board member and Co-Chair of the Data & Observation model linking science panel (DO-LINK).
Teamrat expressed his primary missions being the
Fostering of the bottom-up structure of ISMC
Attract early-career scientists to become active participants
Broaden the disciplines represented
Systematically characterize the properties and processes of every sq-km of soil surface
Teamrat will be chairing ISMC together with Harry Vereecken, FZ Jülich.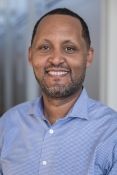 We look forward to a striving community, upcoming events at ASA-CSSA-SSSA International Annual Meeting, AGU 2019 and ISMC 2020 conferences, currently in the planning process.
Also in the pipe-line is the planning of Executive Board elections 2019.